Building buddhi: Meet Our Team

Building buddhi for this launch has been such a wild ride over these last three years, and we couldn't have made it this far without the help of our incredible team members. Our marketing and tech crew has been integral to buddhi's growth and endurance through fundraising, development, and launching a beta version right before a global pandemic.
We love learning about you, so we figured you might want to get to know us!
The buddhi Team
Kathleen Brown: Founder + CEO
Meagan Brown: Community Director
Paul Burdick: Lead Software Engineer
Alexis Davis: Social Media Strategist
Maria West: Content & Brand Manager
Lauren Wallace: Community Engagement Intern
Kaili Wegener: Community Engagement Intern
Penelope: Chief Comfort Officer 🐾
Get ready for the ultimate fun-fact attack and see who you might relate to most!
What are 3 things most people don't know about you?
Kathleen:
"1. I'm an omnivert. (Can be both introverted and extroverted.)
2. I'm a former bartender (who no longer drinks booze).
3. I have met Matt Damon (as a teen, on my last day of chemo in Memphis) and Ben Affleck (many years later, while both dining solo in LA) separately."
But was J. Lo there too?!
Meagan:
"1. I have one brown and one hazel eye.
2. I never tried an orange (or anything from the orange family) until after college.
3. I used to fall asleep to the Jim Carrey version of "How the Grinch Stole Christmas" every night... not just around the holidays."
Orange you glad we didn't say banana?
Alexis:
"1. I love being organized. My closet is in alphabetical order by color.
2. I hate scary movies.
3. I will never go skydiving."
Maria:
"1. I hate rollercoasters and thrill rides (everyone is always surprised by this for some reason, I guess because I'm such a fun person?!)
2. My husband and I are both left-handed, and we think our 18-month son is, too!
3. My maiden name is Best, so now I'm Maria Best West. I don't have a vanity social handle."
Paul:
"1. The last four digits of my SSN.
2. My mother's maiden name.
3. The mascot of my high school."
He's got jokes, folks! There's no breaking into this guy's accounts.
Lauren:
"1. I have a high pain tolerance and got all of my wisdom teeth extracted from under my gums wide awake.
2. I went on a sustainable coffee farming / ecological construction volunteer service trip to Costa Rica.
3. I can't wait to become a nurse in a little less than a year!"
We're excited for you too, Lauren!
Kaili:
"1. I'm a huge coffee fanatic. I'm definitely still a novice at-home barista, but I'm trying my best to improve my latte art skills!
2. Collecting vinyl records has become a new favorite pastime of mine. I love being able to support my favorite musicians and discover new music!
3. I won my middle school spelling bee right before heading to radiation treatment (lol)."
Penelope 🐾 :
"1. You might say I'm notorious in certain circles for my video greetings that I've been recording since I was a young pup. Kind of like a Cameo star, before it became a billion-dollar tech platform.
2. I was on the Chicago news after being electrocuted.
3. I love to kayak."
As a child, what did you want to be when you grew up?
Kathleen: "Punky Brewster. An Olympic gymnast. An ESPN broadcaster."
Meagan: "A WNBA player. This quickly changed when I realized I don't enjoy running, and now I've been known to pull a calf muscle while playing Pop-a-Shot. 😅"
Alexis: "A doctor! When I got older, I wanted to focus on public health, but I ended up majoring in public relations. Halfway there!"
Maria: "Chimp trainer"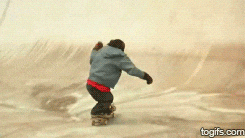 Paul: "Astronaut."
Lauren: "A Disney Channel star (would use my hairbrush to draw the little Mickey ears while introducing myself)!"
Kaili: "In preschool, I declared that I would be the POTUS one day and promptly gave cabinet assignments to my classmates!"
Penelope 🐾 : "A celebrity dog, with handlers and "yes (wo)men" telling me how pretty I am."
Describe your role with buddhi like you're talking to a 5-year-old.
Kathleen: "I am not like a regular mom, but like 'a cool mom' making sure everyone at buddhi is supported and has what they need to thrive."
Meagan: "I talk with people on the internet about their experience with cancer and plan events that would help make them feel better and more connected to others."
Alexis: "I post photos and videos about people who have, or have had, cancer online."
Maria: "I write the words that help people find and know what buddhi is about so they can be our friends!"
Paul: "I build the website and keep it running."
And for that, we thank you!
Lauren: "I get to help out my sweet, cool friends Miss Kathleen and Miss Meagan with all sorts of special projects to make buddhi the most awesomest online community for cancer thrivers and their caregivers in the whole wide world! We are working together to bring more friends together to realize that they aren't alone and have people out there who want to do whatever they can to make cancer less of a big, scary monster.
*Barney's 'I Love You, You Love Me, We're A Happy Family' plays softly in the background*"
Kaili: "As a community engagement intern, I work to ensure that the growing community of cancer thrivers find meaningful support, content, and even a few gifs (😉) on buddhi!"
Penelope 🐾 : "I make people smile at the office, on Zoom meetings, and IG Lives."
What's your favorite part about working for buddhi?
Kathleen: "Without a doubt, getting to meet all of the people in our community. My heart grows bigger every day, and I learn new ways we can reimagine support for people coping with cancer."
Meagan: "My favorite part(s) about working for buddhi are working for my sister (Kathleen!) while being just a small part of building a truly incredible community + platform."
Alexis: "I love learning more about people and their experiences, whether it's good, bad, or ugly. buddhi has helped me better understand the lives and experiences of cancer thrivers in a *more* empathetic way, even though I know I can't fully understand."
Maria: "Having the privilege to share stories of our incredible cancer thrivers and survivors alongside other passionate team members."
Paul: "Working from home for a good cause."
Lauren: "SO many things to say / love, but I think knowing how many people will benefit from buddhi and how it will increase visibility and amplifies the voices of individuals living with or recovering from cancer is what excites me most. If I think / talk about it too much, it quite literally brings tears to my eyes."
Kaili: "As a cancer thriver, I love how working at buddhi empowers me to find my voice as an advocate, survivor, and community builder!"
Penelope 🐾 : "Not going to lie: compliments and belly rubs."
If you could instantly become an expert in something, what would it be?
Kathleen: "Medical research to cure disease and make dogs live forever."
Meagan: "I would love to become an expert at immediately memorizing things! I often feel like I have short-term memory loss, and it does not come in handy with things like remembering people's names or retaining new info 🤦🏻‍♀️ imagine what life would be like if you just remembered everything you've ever read or heard!"
Alexis: "I would love to be a history / political buff, as I think knowing where we come from is important for the future."
Maria: "Cooking / cuisine."
Paul: "Emergency medicine."
Lauren: "How to insert an IV. I really hope I learn how to do that properly in nursing school because it's not fun at all when it's done wrong (speaking as someone who has had some pretty janky ones)!"
Kaili: "I'd love to become an expert in the art of brewing coffee. I am definitely a novice home barista and would love to move beyond the Keurig! 😅"
Penelope 🐾 : "Opening the treat jar."
What's the best gift you've ever been given?
Kathleen: "Anything from my sister, Meagan. There have been so many, but last year for Christmas, she commissioned an artist to draw a portrait of my dog-ter, Penelope. 🥰"
Meagan: "Surprise parties for my 16th and 30th birthdays! I love planning events and surprises for others, so these were both very humbling experiences to have the tables turned and get thrown for a loop by my family and friends. 🥰"
Alexis: "My Canon EOS Rebel T6i camera. My boyfriend, Kyle, got it for me for my birthday during our first year together. It was so thoughtful and unexpected and showed me that he cared about my professional growth, and that he took the time to listen to my needs."
Cue *awwwwww*
Maria: "My first cell phone when I was 14."
Paul: "A Darth Vader pen with sound effect buttons."
Lauren: "My engagement / wedding bands!"
Kaili: "My grandparents gave me my first record player a few years ago and I've treasured it ever since. I love playing my favorite records while I work from home!"
Penelope 🐾 : "What my mom (Kathleen) said! My portrait should be hanging at The Art Institute, if I do say so myself."
::adds all to our shop::
Describe your version of a perfect self-care day.
Kathleen: "A spa day followed by an outdoor music fest. Ideally in a warm, tropical environment. (A girl can dream, right?!)"
Meagan: "Sleep in, meditate, do a morning workout, have a few hours at a spa, lay by a pool reading a book, and dine al fresco for all meals. Oh, and this would all take place on the island of St. John. 😎"
Alexis: "A perfect self-care day would be getting my hair washed with a beautician who knows how to give a great scalp massage (lol), a facial, a full-body massage (do you sense a theme?), a mani + a Pedi, topped off with macaroni and cheese and a bit of shopping."
Maria: "Spa day by the pool with friends and a good book."
Paul: "Finding a way to be 22 again."
Lauren: "A back massage with a sh*t-ton of good-smelling lotion followed by a float in some sort of body of water and a good book waiting for me onshore. Also, an iced matcha in a cute little glass."
Penelope 🐾 : "It would involve a 4-hands massage, a jar of peanut butter, and a nap with mom."
Team trip to the spa, anyone?!
If you could have one superpower, what would it be, and why?
Kathleen: "The ability to cure diseases and protect all the vulnerable people in the world. Or, you know, just the superpower to find a decent man. 😂"
Meagan: "I will die on my stance that teleportation would be the greatest superpower to have. Just think about how much time, money, and travel stress you'd be spared!"
Alexis: "I wish I could teleport so I can always go where I please when I want. No more traffic or TSA!"
Maria: "The ability to freeze time so I could truly cherish certain moments, or use the time to get stuff done. #MomLife"
Paul: "The power to have any superpower on command."
Lauren: "The ability to touch a person's hand and make them instantly feel better. I hate seeing people be sad!"
Penelope 🐾 : "The ability to conjure up compliments and belly rubs on command."
Assuming there were no constraints (money, family, etc.), where would you choose to live/work remotely, and why?
Kathleen: "Lisbon, Portugal. It's one of my favorite places on Earth with beautiful scenery, welcoming people, incredible food and culture – and centrally located to explore Europe."
Meagan: "Somewhere in Ireland, since I would love to spend extended time learning more about the culture that has always been a big part of our family. Bonus points for having the comfort of being somewhere that speaks the English language, and also for being close to other amazing countries to more easily explore."
Alexis: "Somewhere on the Italian coast because I loveeeee pasta, and Italy is such a beautiful place!"
Maria: "Technically, I could do this now! But somewhere not too cold with walkable activities / shops, close to a major city but not in one, and a short drive away from nature sights. Or Brugge, Belgium (in the summer)."
Paul: "Traveling around the Universe in my TARDIS and trying new places all the time. Beaches, mountains, forests, deserts...they all seem lovely and worth enjoying."
Lauren: "Oahu, Hawaii! I have so many special memories from my childhood of annual visits since that's where my grandma lived until she passed away from stage IV lung cancer / where my mom grew up!"
Kaili: "Carmel-by-the-Sea, California! I love NorCal!"
Penelope 🐾 : "I'll tell ya where. A place where the peanut butter flows like wine, where beautiful doggos instinctively flock like the salmon of Capistrano. A little place called Aspen."
(Can anyone name that movie?!)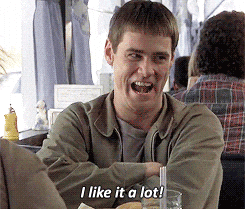 Say you had your own podcast. Who would be your top 3 dream guests (dead or alive)?
Kathleen: "Conan O'Brien. Suleika Jaouad. Michael B Jordan (would need to record IRL though, obviously)."
Meagan: "Bill Murray, Emmanuel Acho, and Scott + Seth Avett (they count as a packaged deal, don't @ me!)."
Alexis: "Bozoma Saint John, Kamala Harris, and Kandi Burruss."
Maria: "Frida Kahlo, David Sedaris, Jesus."
Paul: "A priest, a rabbi, and a minister. The podcast would take place in a bar."
Lauren: "Oprah, MLK Jr., and Zooey Deschanel."
Kaili: "Phoebe Waller-Bridge, Audre Lorde, Peter Singer."
Penelope 🐾 : "If I'm the first talking dog-turned podcast host, I'm taking my talents to Spotify and getting PAID! We'll do a cross-promotion with Harry, Meghan and Oprah, and I'll start my own dog media empire.✌🏻"
What is your go-to emoji?
Kathleen: 🙃
Meagan: 🤠
Alexis: 🔥
Maria: ✨
Paul: 🤔
Lauren: 🥺
Kaili: 😺
Penelope 🐾 : 💩
Describe yourself in one GIF.
Kathleen: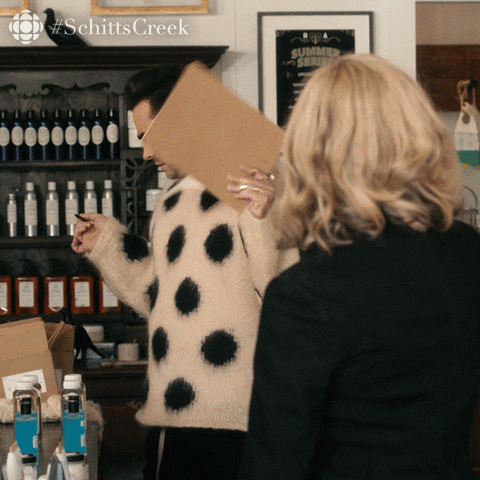 Meagan: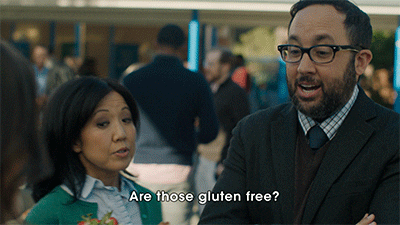 Alexis: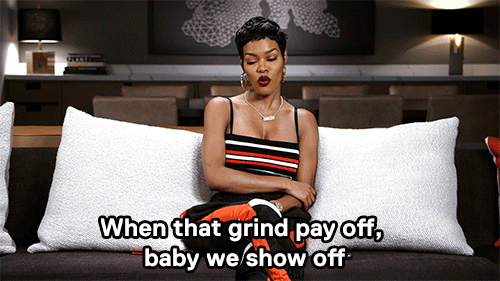 Maria: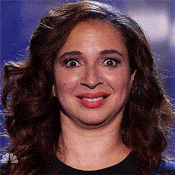 Paul: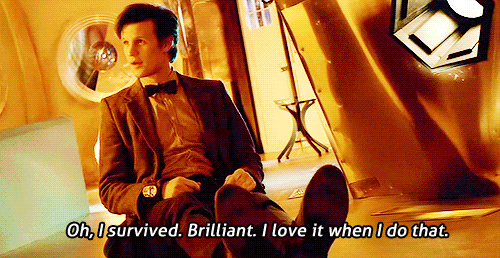 Lauren: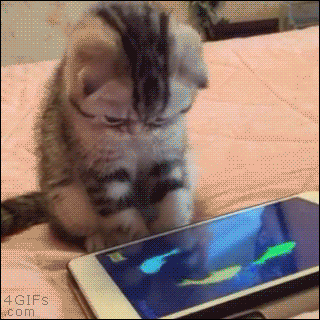 Kaili: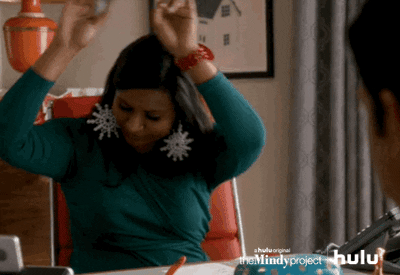 Penelope 🐾 :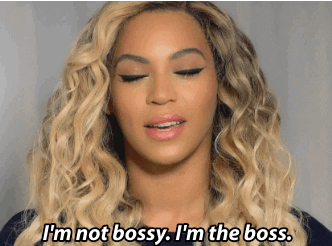 Thanks for getting to know us! Now, we'd love to meet you – be sure to join our community or login to introduce yourself!