How to Handle the Financial Toll of a Cancer Diagnosis (Because This Sh*t's Expensive)

Cancer is f*cking expensive. And no matter where you fall on the healthcare political spectrum, everyone can agree that footing the bill for something no one wanted in the first place SUCKS.
According to the American Cancer Society (ACS), more than half of U.S. cancer survivors have high medical costs, tons of stress, and even delayed care due to cancer's financial burden. It's no wonder people struggle when cancer treatment costs can run up an average tab of $150,000 (barf).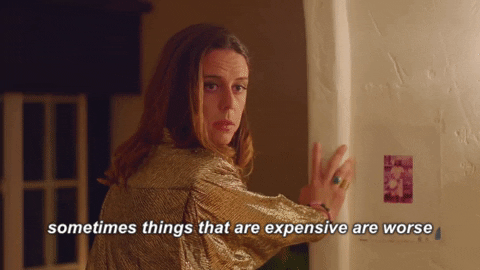 There's a problem, but having a conversation about finances is taboo. So what are cancer thrivers and caregivers supposed to do?
Given that financial stress is a significant burden for our community, we want to open the dialogue about it. We're here to complain right alongside you and suggest resources that may alleviate some strain.
Let's talk about financial toxicity and financial distress.
The terms financial toxicity and financial distress describe how out-of-pocket costs can cause financial problems for cancer patients and their families. Like anything with the word "toxic" or "distress" at its core, this can cause trauma and long-lasting turmoil.
Causes of financial distress in cancer-stricken families can include:
Surprise medical bills (40% of Americans can't afford an unexpected expense over $400)

No health insurance or being underinsured

High premiums, deductibles, copays, or coinsurance

Reduced income and employment impacts

Inability to save for the future, like retirement or college

Struggling to keep up with bills or pay off debt
Medical financial distress is arguably just as serious as the physical and emotional parts of cancer.
These burdens tend to create emotional distress, depression, anxiety, burnout, and a sense of powerlessness… you get the idea.
Not everyone has equal access to the best care, and it matters.
It's worth pointing out that cancer death rates are 20% higher among the poorest U.S. counties compared to the most affluent counties. It's literally a matter of life and death.
The type of health insurance you have (or don't) affects treatment options and may put you at risk of financial toxicity.
A cancer diagnosis doesn't affect everyone the same financially. It depends on a variety of factors, including:
Age or stage in life

Work / school status

Socioeconomic status

Kids at home

Employment benefits

State and local laws
You gotta work for the money, but what if you can't work?
Medical bills aren't the only culprit for financial distress. A cancer diagnosis can impact a cancer thriver or caregiver's employment.
Maybe you're working fewer overtime hours, unable to perform your regular physical duties during treatment, or lack insurance eligibility. For parents of children with cancer, it can be tough to navigate the demands of caregiving and juggling work.
Communicating With Your Employer
No matter what your workplace culture or boss thinks about your situation - communicate, communicate, communicate.
There's no need to share every little detail about your treatment or side effects. Tell your boss, team, and HR what they need to know, not just everything they ask. Ignore those positivity pushers and cancer muggles (link to article).
Talk with your employer to know your options regarding employee benefits, shifting work hours, or flexibility with working from home. See if financial services are available through your employee benefits that apply to your situation (e.g., paid leave, subsidized child care, etc.).
Tips for Financial Convos Before, During, and After Treatment
The cancer-money discussion isn't a fun one (you're not deciding your lottery winnings). You have to talk about it, though. Remember to keep communication lines open with your loved ones as well as the medical institutions. Here are resources we love that might help.
Financial tools for cancer thrivers and caregivers:
See a complete list of programs and resources to help with cancer-related expenses from The American Cancer Society and their partners.
Try to Negotiate
Hospitals deal with hefty invoices all the time and know it can cause hardships. There are some options for alleviating the medical bill burden. Ask your hospital about flexible payment schedules, or even offering up-front payments with a discounted rate (e.g., "I can give you $3,000 in cash now or pay the total $3,500 over 3 months).
Negotiation goes for treatment scheduling, too. Maybe there's a more flexible chemo option that can allow you to keep a few work hours or not have to use daycare.
You won't get a "yes" unless you ask.
The financial toll of a cancer diagnosis is a doozy.
Focus on what you can control when it comes to your health. Self-care, community, and taking things one day at a time will help you face this beast. The more we talk about it, the less alone we will feel.
Do you have any additional financial support resources, tips, or tricks for our community that have helped you? Login to share in the conversation!