Thriver Spotlight: Meet Our Bud, Trish


Trish is an unapologetic cancer thriver and healthcare professional in NYC. She was 37 when she was diagnosed with invasive ductal carcinoma (breast cancer).
ICYMI: we went live on Instagram with Trish in March as part of our Thriver Thursday series — check out the convo here!
Trish's Cancer Story
Trish's 2016 breast cancer diagnosis wasn't her first tango with cancer. She was first introduced into the cancer community as a caregiver to her teenage son. Then at 37, it was her turn.
The Spotlight as Friend and Foe
Trish didn't get on social media when she was going through treatment. Not everyone is down with live streaming their chemo appointments, after all. But even seeing life go on like normal was difficult.
"FOMO is real, and seeing people living their best life is hard. It's too much to take when you feel angry at the world or God."
Since then, Trish has fully embraced social media and sharing her experiences. She's become a source of joy, support, and inspiration to many through her work with The Breasties and Hip Hop Happy Hour.
Let's get to know her better!
Fun Facts
Three things most people don't know about Trish:
She played piano at Carnegie Hall when she was 14.

Hugs used to make her very uncomfy, but she's since come around.

She seems super at ease in public, but she's timid and works hard to overcome it.
The lipstick queen who helps others feel seen. Trish says, "A red lip is non-negotiable." She's always rockin' one of her 30+ red lipsticks like "Brave" from The Lipstick Journey.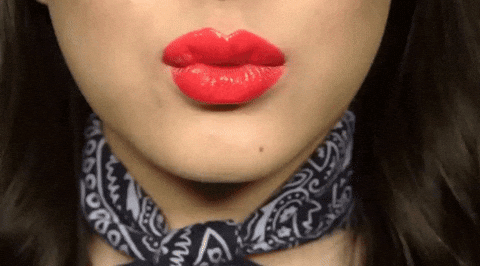 Trish on Support and Why Showing Up Matters
And her friends sure did show up.
Between her diagnosis and the start of chemo, Trish's friends organized a girls' getaway weekend. As someone who typically is doing everything for others, it was nice not to have to plan or coordinate anything (even the Uber that picked her up).
"I felt so seen, recognized, cherished -- it was the best weekend." Drains tucked into her fanny pack and all. Best chemo kick-off ever.
But this was a pleasant surprise for Trish after not knowing what to expect from her supporters. "People don't always get it right, and we should also help folks to help us."
Ghosting sucks, bud.
When her son first got sick, Trish's family experienced ghosting from someone who she thought was part of their tribe. This experience made her wary of her cancer support at diagnosis.
She also experienced changes to friendships but gained plenty of new (and even better) ones within the last few years.
Want to support someone going through or recovering from cancer treatment? Here's Trish's advice. "Instead of saying the dreaded 'let me know how I can help,' give your friend/loved one specific options. For example, ask them, 'Would you like me to a) sit with you at the next chemo, b) make dinner for you or c) do your laundry?"
Hip Hop Happy Hour
Hip Hop Happy Hour (HHHH) was born out of being "bored in the house, in the house bored" during the pandemic (in true hip-hop fashion, of course). Trish and her co-host (and breast friend) Tiff wanted to do something fun IRL but took it online.
Now, it's more than a lit live-streamed event every Friday; HHHH has blossomed into a community that's fundraised thousands of dollars, connected friends, and blessed us with something bigger than ourselves.
"It's one thing to bring people together, but it's another thing altogether to have people mobilize and take action."
Trish's silver lining: finding her voice.
Trish, your voice makes us happy and feel empowered. Keep doing you, and we'll see you at the next Friday HHHH!
Follow Trish on Instagram at @trish_newyorkcity, and be sure to listen to our Instagram Live!