You're Not Imagining It — The Toll is Real. Caregivers Need Self-Care, Too.
You're not imagining it — the toll is real. Caregivers need self-care, too.
This may be tough to admit out loud, but caring for someone who is enduring cancer treatment or in recovery is emotionally and mentally draining. As a caregiver, you attend their appointments, hear the same confusing medical lingo at the hospital, and eat more terrible cafeteria food more than you'd like. Your own routine is thrown for a loop, and people aren't exactly focused on making you comfortable. That's enough to take a mental and physical toll on you, as well as your bud.
It's not all about you, but it is about you.
Here are some ways to put the "self" in self-care as a caregiver who needs some lovin' too.
You can't pour from an empty cup.
If you're serving as what is called an informal caregiver (aka you're not paid as a nurse or aid), you are amazing. Period. Chances are you didn't train for years on how to translate hospital lingo, at-home treatments, and patient nutrition.
The burden can be a heavy one, even more so for those in low socioeconomic situations. The pressures to keep up with work, parenting, hobbies, and more can add stress to the already overwhelming situation you're in.
We know you care. But we care about you, and so does your bud. To be the best version of yourself for someone else, you have to make sure your own needs are being met.
If we ignore the anxiety, fatigue, insomnia, and more that comes with informal caregiving, we'll be up against a brick wall with no easy path forward.
Make sure you have your own support system.
Meet other caregivers. Your bud may have resources for connecting with other cancer patients and thrivers (like buddhi!) — but what about you? Imerman Angels can pair you with another caregiver who is going through a similar situation. It's one-on-one unbiased support and mentorship so you can feel seen and encouraged.
Set your own boundaries. You may already be helping your bud navigate boundaries with medical communications, family, and well-intending friend circles. You need your own, too.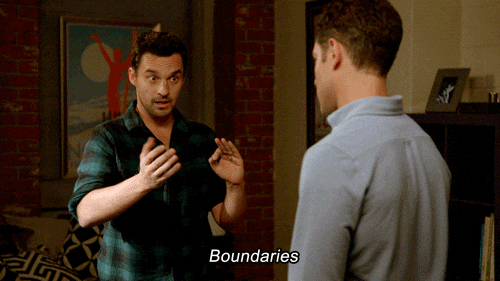 Here are some examples of setting healthy boundaries to protect yourself (and your bud) from burnout:
Time boundaries: Designate time in your schedule to answer emails, return calls and text messages from family and friends. Updates can be written so you can copy/paste to the people who need to be informed. You can also let your network know you won't be available certain times during the week, whether for treatment or self-care.

Relational boundaries: No matter who you spend your time with, there will always be nosy people — a MIL who just can't get the hint, a neighbor who "happens" to be checking the garden every time you get home from an appointment… you get it. Even when you have an amazing relationship with someone, being a caregiver will introduce new relational dynamics. For instance, you don't need to "spill the tea" about your bud's medical team drama or weird side effects. Set these boundaries early. You can say to loved ones, "I'm so thankful to be able to support [bud]. Please respect that I won't be sharing details unless they ask me to. A great way to help is [tangible action - e.g. take the trash can up from the curb]."

Work conflicts: Let your boss know that you're a primary caretaker for a cancer patient. Set clear expectations about what that may mean for your schedule and responsibilities. For example, "I'm driving my sister to chemo appointments every Tuesday at 3 p.m. this month and will need to leave by 2:30. I've coordinated with Jenae to take notes for our weekly team meeting and update the team about my tasks. I'm available by Slack after 4:30 p.m. on those days. Does that work for you?" Specific and respectful is the name of the game.
If you need more time off of work, your employee benefits may cover this. Ask your boss or HR about plans like The Family and Medical Leave Act (FMLA), Employee Assistance Program (EAP), or something more informal.
Take mini breaks throughout the day.
Little things make a big difference when it comes to self-care, especially when it comes to your own physical and mental health. Maybe you don't have time for a 60-minute yoga session, but you can take a walk around the block. Some ideas for snackable self-care activities include:
Prayer

Exercise or stretching

Bath

Taking supplements or CBD oil

Crossword puzzle

Learn a TikTok dance
Start with something small each day and try to build up from there.
Partake in a regular social activity.
Staying social = staying sane. When time allows, aim for at least once per month doing something you enjoy with others. This could be a virtual game night with friends, an exercise class, or a Meetup for your favorite hobby.
Bonus points if it's healthy and makes you smile!
Accept help from others.
This is a big one! Ask 👏 for 👏 help 👏. If someone offers, say "YES!"
Don't know what you need help with? Look at your to-do list and understand what priorities you need to tackle. Where can you outsource without added stress? For example, picking up groceries, getting gas for the car, watering plants, or walking the dog are great ways for people to give you a break.
You are doing the most, and we don't want to see you on the race to burnout. Your self-care routine can make or break your caregiving experience.
What's your go-to self-care activity? Sound off in the conversation forum in our community on this topic!